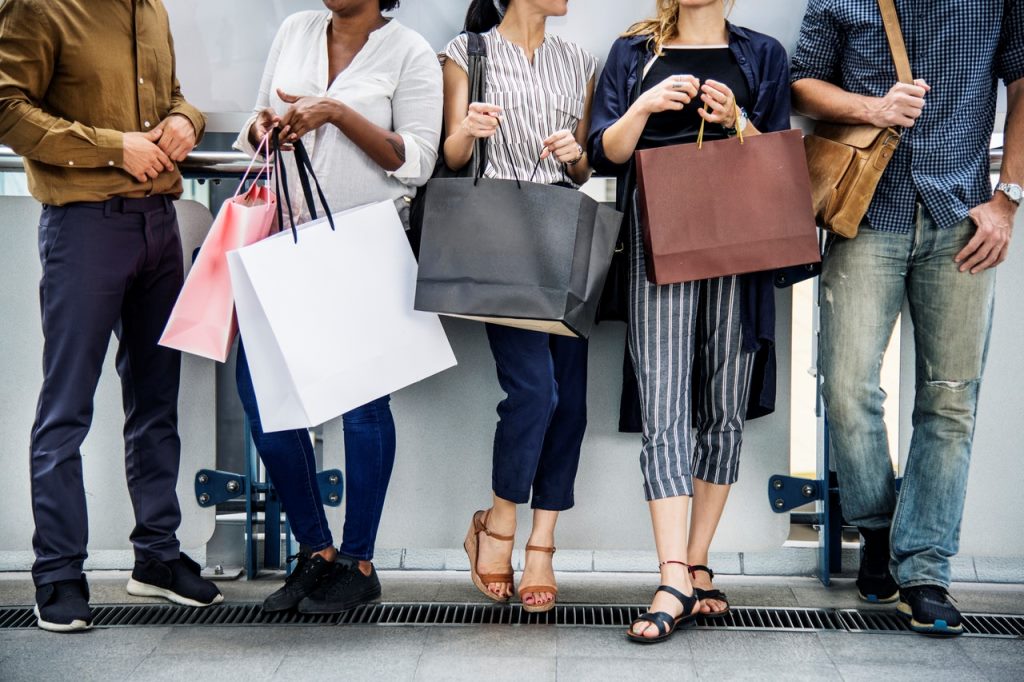 Comparison Of Major E-Commerce Platforms
In this post we have compared all major E-Commerce technologies and tried to find out which one is best for you. To make your store highly profitable you have to pick the technology which meets all your major requirements.
Usage Distribution For eCommerce technologies
To reduce your burden of choice, we prepared a comparison between different top ecommerce-platforms:
shopify
Shopify is a hosted shopping cart. It means all the code issues are handled by Shopify, nevertheless, it provides you with full control over the coding of your site (HTML & CSS). Shopify is one of the best and most reliable eCommerce software that serves over 325,000 of businessmen worldwide. It is a 'pure' eCommerce builder. For instance, recently Shopify has integrated with Amazon, now you can add the latter as a sales channel and sell products from Shopify Admin panel.
1 - ECommerce Templates and Design
Shopify has a big, imagery theme store where you can find beautifully designed and responsive e-business templates. Still, because Shopify is a hosted shopping cart, you will have limited customization options.
2 - User-friendliness
Shopify is super user-friendly. It's drag-and-drop interface, simple tools, easy theme editing will ensure a seamless user experience even to eCommerce newbie. Polished and stylish, Shopify admin panel is a good example to be followed by other eCommerce market's solutions. Talking about customers, their buying experience is seamless with uncomplicated steps to check out too.
3 - SEO
Shopify is highly SEO-optimized. It includes main needed SEO features in all plans: editable title tags, meta descriptions, pages URLs, ALT tags for images, customizable image file names, etc.
4 - Prices and extra costs
Shopify offers 14-day free trial, after you need to buy a monthly subscription, where the prices start from $29 for basic plan. It's worth mentioning, that you have to pay the credit card rate - maximum is 2,9%+30 cents per purchase.
5 - Customer Support
This is where Shopify is, definitely, among leaders. It offers 24/7 responsive customer support to its users. You can reach the support team via email, phone or live chat. If anything happens, you will be sure that someone is going to solve your issue.
megento
Magento is currently known as the most flexible eCommerce platform. Being literally a masterpiece of software craftsmanship, it offers nearly unlimited possibilities for tech-savvy store owners.
1 - ECommerce Templates and Design
Due to its popularity, Magento has wide range of templates. All of themes in Magento Marketplace are user friendly, customizable and responsive design to any devices.They look impressively attractive.
2 - User-friendliness
Magento, unlike Shopify, is not so user-friendly. With the release of Magento 2.0 the platform became much more comprehensible, it's still a rather an obscure (roughly speaking) solution. Magento is not the best option for those who have only basic or limited tech knowledge, but if you choose it, be prepared to spend some time learning the basics of this platform.
3 - SEO
Here Magento is among leading eCommerce platforms, because it is extremely SEO-optimized and offers extensive SEO functionality. That said, you need to be familiar with the optimization principles - nothing goes "preconfigured" with Magento.
4 - Prices and extra costs
Magento is free, but considering the fact that lots of the plugins are available for extra cost, you will have to fork out. Furthermore, you'll need to pay monthly fee to your hosting provider. Considering Magento's resource intensity, it won't cost you cheap, probably.
5 - Customer Support
Thankfully, Magento has an extensive developer community. And nearly every platform-related question is already answered. However, users of paid Enterprise Edition, may count on Magento provided technical support. It will help to avoid searching answers in the infinity of community forum threads.
WooCommerce
WooCommerce is among world's most respected shopping carts. It comes as a free plugin to Industry dominating content management system- WordPress. It is a perfect solution for those who want to build their own web store from the ground up or start selling products using their existing WordPress blog or website.
1 - ECommerce Templates and Design
To be honest, WooCommerce has a serious advantage over Shopify and Magento when it comes to designs. What does it mean? Setting aside specific WooCommerce themes, you can make any WordPress theme work with your plugin. There are tens of those templates on the web.
2 - User-friendliness
WooCommerce can boast of its high level of user-friendliness and ease of use on a daily basis.However, it's a bit more challenging than Shopify, while setting a store.
WooCommerce is a plugin, not a subscription-based solution like Shopify, which means that you need to handle a couple of things before you getting to work with WooCommerce itself. After all, WooCommerce is less complicated and easier in use than Magento.
3 - SEO
WooCommerce simply takes advantage of WordPress content integration, or what's available through third-party plugins. As a result, WooCommerce gives you extremely SEO-specific options. It is mostly due to the fact that WooCommerce is built on top of WordPress, which offers unlimited SEO potential.
4 - Prices and extra costs
WooCommerce is a free eCommerce plugin with free updates. But if you need more than just basic options, WooCommerce offers priced extensions for SEO, more payment gateways and and others. WooCommerce official extensions pricing starts from $29 per one.
5 - Customer Support
There is only some limited support from Automattic due to the plugin's open system architecture. Similar to Magento, you can edit the source code and try to solve issues on your own or you can appeal to WordPress forums.
OpenCart
OpenCart is free open-source platform and a perfect match for small / medium-sized businesses. This software is based on PHP, therefore any merchant would benefit from background in that programming language. This shopping cart can boasts of impressive site speed thanks to running on AJAX technology. OpenCart is loaded with all basic functions user needs from eCommerce solution.
1 - ECommerce Templates and Design
There are tons of them available, both free and paid, capable of giving your store the very attractive look.
That said, you'd need to have some basic knowledge in HTML, CSS and JavaScript to apply them to your store properly. This makes template management in OpenCart a bit more complex than in WooCommerce or Shopify.
2 - User-friendliness
Quick OpenCart setup along with a responsive interface makes OpenCart an easy tool for non-tech savvy users and store owners. Even with limited technical knowledge, you can easily add, change or edit within OpenCart with no headaches.
3 - SEO
When it comes to SEO, OpenCart is neither better nor worse than any other platform featured in our shopping cart comparison. It has all basic SEO features you'd expect from a high-end eCommerce solution and capable of getting your products into the tops of SERP pretty easily.
4 - Prices and extra costs
When it comes to open-source platforms, the word 'free' sounds tricky. Of course, OpenCart is free to download, use and even upgrade, however, it doesn't mean that you will run your store with no charges.
Taking into account that you are responsible for your hosting and security, basic expenses will include the domain name, hosting and SSL certificate. There is no doubt that you will have to spend a significant sum of money buying various extensions.
5 - Customer Support
Fortunately, OpenCart forums are very active, and you don't need to pay. It's easy find a developer or shopping cart representative willing to answer your questions.
PrestaShop
PrestaShop is one of the market's leading shopping carts. It is a golden middle between the complex powerfulness of Magento and Shopify's beautiful simplicity. Like all 4 open-source solutions in our list, PrestaShop takes the advantage of a freemium business model which means one main thing - it's free to download and use.
1 - ECommerce Templates and Design
On the PrestaShop Official Marketplace, PrestaShop offers over 1,500 templates. It has the vast selection of customizable eCommerce themes. All Prestashop templates are generally of high standard, and its various front-end features make shopping easy to a customer.
2 - User-friendliness
PrestaShop has a very sleek and modern dashboard, which provides quick access to all the needed store performance info and settings. Yet, due to an extensive feature set, we consider it to be less comprehensible than the one offered by WooCommerce or Shopify.
3 - SEO
PrestaShop has a great and versatile set of SEO features right out-of-the-box. You can edit each page, add high ranking meta tags and even make sure to generate SEO friendly URLs, that means your products can be easily recognized by search engines. PrestaShop gives you the ability to take advantage of URL rewrites, Google sitemap, canonical URLs and redirects and many other SEO features.
4 - Prices and extra costs
Being an open source shopping cart, PrestaShop is completely free to download and use. But, that does not mean that this eCommerce solution is no-expence.
As any other open-source solution, it requires a paid web hosting. Hosting fees can vary e.g PrestaShop promoted hosting partner 1&1, charges from $7,99 to $14,99 per month. There's no way you are going to build a functional store without purchasing several paid modules or a good looking template.
5 - Customer Support
It is worth saying that PrestaShop has support, unlike other mentioned above open-source platforms, but it is paid. There are different plans with different levels of support, but the pricing is rather high. The least expensive plan is $249 per month for 3 hours of support, or $399 per year with a minimum 1 year subscription. And for this money, with the latter plan you get only 6 hours of support per year.